There are many things I miss about my hometown of Dearborn, Michigan.
I miss my family. I miss friends. I miss all the fun gatherings, events and celebrations!
At all of these gatherings, there is always a large selection of delicious foods.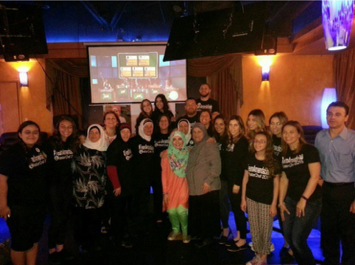 Aside from all the delicious home cooked meals, I miss the easily accessible halal food.
We are limited on halal options here, so we generally prepare things at home.
As you know from previous posts, LA Bistro is a popular restaurant in Dearborn, with a variety of cafe style Mediterranean food. One of my favorite dishes they serve, is the almond chicken. So, I developed a copy cat recipe!
Here is my recipe:
Almond Chicken
Prep time:
Cook time:
Total time:
A delicious pan fried chicken breast with almonds and a creamy sun dried tomato sauce!
Ingredients
For The Chicken
4 skinless boneless chicken breasts, cut or beat into 1/4 inch thick pieces
1 1/2 cups Italian bread crumbs
1/3 cup sliced almonds
2 eggs, whisked
3/4 cup flour
1/2 teaspoon kosher salt
1/2 teaspoon fresh ground black pepper
1/2 teaspoon garlic powder
1/2 teaspoon Hungarian paprika
1/2 cup vegetable oil (I use grape seed oil)
For the sauce
3 tablespoons unsalted butter
2 tablespoons all purpose flour
1 pint heavy cream
3/4 cup sun dried tomatoes, sliced
1 teaspoon kosher salt
1 1/2 teaspoons ground white pepper (can use black pepper)
1 1/2 teaspoons garlic powder
1/4 teaspoon cayenne pepper
Instructions
In a bowl combine flour, salt, pepper, paprika and garlic powder.
In a second bowl whisk together eggs
In a third bowl combine bread crumbs and almond slices.
Set up dipping station. First flour mixture, then egg, then bread crumbs.
Dredge chicken breasts into flour, then egg wash, then coat them with the bread crumbs. Gently press the almonds into the chicken so they stick.
Heat oil in pan. Cook chicken 3-5 minutes on each side, until golden brown. Place on rack.
To make the sauce, mix butter and flour to create a roux. Allow flour flavor to cook out; approximately 5 minutes. Stirring constantly.
Whisk in heavy cream, salt, pepper, cayenne pepper and garlic powder.Add in the sun dried tomatoes. Continue stirring until the sauce thickens.
Serve the sauce over chicken.
Serve with a side of rice and vegetables.
Enjoy 🙂
SaveSave