During the 100th episode of MasterChef, I was the first round draft pick to join Nick Nappi's team. We set out to create a menu to celebrate this huge milestone. The guests of honor included previous MasterChef contestants, restaurateurs, and food bloggers!
Our menu consisted of an appetizer of oysters and caviar (so fancy!) and our entree was duck breast with rice and roasted carrots!
We had little time to prep everything and I was worried about having to peel carrots for 50 people! But then, Mr. Stephen Lee, master gardener, ultimate veggie connoisseur had a brilliant suggestion! He handed me a kitchen sponge.
Yes, a sponge.
He proceeded to demonstrate how to clean a carrot with the rough side of the sponge and my life has never been the same.
Okay, I am being really dramatic. But it is such a time saver AND more importantly to me, it keeps the beautiful cylinder shape of the carrot!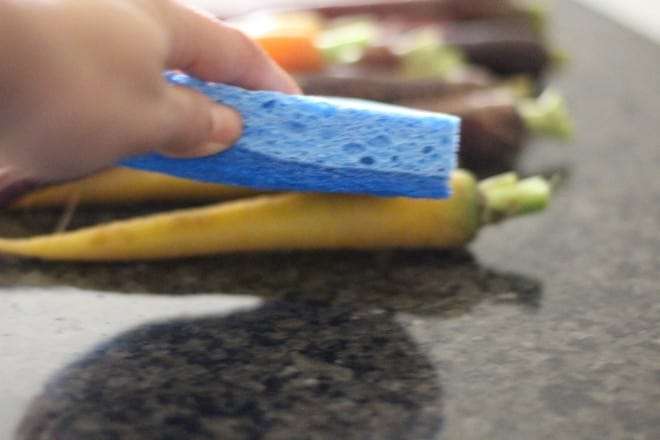 The carrots on that episode were burnt to a crisp and we couldn't use them. But that won't happen with you 😉
---
Onward to my rosemary roasted carrots recipe.
My herb garden is still alive, so I was able to use fresh rosemary. Dried works too, but you would want to use a lot less, maybe 1 1/2 teaspoons!
As always, this recipe is a guide. Use it how it is, alter it, adapt it, add spices you like, omit things you don't!
Oh, and be sure to use a brand new sponge 🙂
Rosemary Roasted Carrots
Prep time:
Cook time:
Total time:
Ingredients
2 bunches heirloom carrots (about 18 medium carrots)
1 tablespoons olive oil
1 tablespoon chopped fresh rosemary
2 tablespoons honey
1/2 tablespoon minced garlic
large pinch of kosher salt
fresh ground pepper
Instructions
Preheat oven 425 degrees
Wash and clean carrots, cut into halves
Toss carrots in olive oil, honey, garlic, rosemary, salt and pepper
Spread onto a lined baking sheet
Roast for 20 minutes, until center is tender and outside of carrots are caramelized
Enjoy 🙂