The most common question I receive in regards to baking is, "where can I find alcohol free vanilla?" And there are a few options, one of which is LorAnn Oils. I was delighted to learn about LorAnn Oils alcohol free vanilla extract. I have been using this product in my baking over the past six weeks and have loved it in the following preparations: chocolate chip cookies, brownies, buttercream, overnight oats, pastry cream, creampuffs and this ashta!
Did I mention LorAnn Oils is a Michigan company? Yay! The vanilla is also very warm.
This recipe was first created at my bakery, butter bear shop, alongside our pastry chef, Patty. Some of our favorite recipes. This recipe is modified and makes about 24 cream puffs.
For those not familiar, Ashta is a levantine cultured cream, that is thick and flavored with rose water. Traditionally it is made by boiling milk, skimming off the top and repeating over and over. This is not a traditional preparation but one that is quick and delicious 🙂
Ashta Filled Cream Puffs
Ingredients
For the Pastry
1/2

cup

water

1/2

cup

whole milk

1

teaspoon

LorAnn Oils Alcohol Free Vanilla

8

tablespoons

unsalted butter

1/2

teaspoon

kosher salt

1

teaspoon

granulated sugar

1

cup

all purpose flour

4

large

eggs

room temperature
For the Ashta Filling
1

cup

heavy whipping cream

1

cup

ricotta cheese

at room temperature

1/2

cup

powdered sugar

1

teaspoon

LorAnn Oils Alcohol-Free Vanilla

2

teaspoons

rose water
Garnish
1/4

cup

crushed pistachio

1

teaspoon

rose petals
Instructions
For the Pastry
For Pastry:Preheat oven to 425˚F. Line baking sheet with Silpat or parchment paper. In a saucepan, combine 1/2 cup water, 1/2 cup milk, butter, vanilla, sugar and 1/4 tsp salt.

Bring just to a boil over medium heat then remove from heat and stir in 1 cup flour all at once with a wooden spoon.

Once flour is incorporated, place back over medium heat stirring constantly for 1 1/2 to 2 minutes to release extra moisture and partially cook flour. A thin film will form on the bottom of the pan and dough will come together into a smooth ball.

Transfer dough to a large mixing bowl and beat using an electric mixer on medium speed for 1 minute to cool mixture slightly.

Add 4 eggs, 1 at a time, allowing to fully incorporate between additions. Beat another minute until dough is smooth and forms a ribbon when pulled with wooden spoon.Place dough to a piping bag with a round tip.

Pipe 1 ½ inch round circles.

To eliminate peaks, use a bit of water on the tops to press the peak down.

Bake at 425˚F for 10 minutes in the center of the oven. Without opening oven, reduce temperature to 325˚F and bake for 20-22 minutes or until golden.
For the Ashta
While the cream puff are baking, cream heavy whipping cream until stiff peaks, using a whisk attachment on mixer.

Add ricotta, powdered sugar, vanilla and rose water.

Whisk until fluffy and combined.

 Once Cream puff have cooled, cut in half and pipe ashta filling into the center. Garnish with powdered sugar, crushed Pistachio and rose petals.
This post and recipe are sponsored by LorAnn Oils All content and ideas are my own. Thank you for supporting the companies that help support and keep this blog going.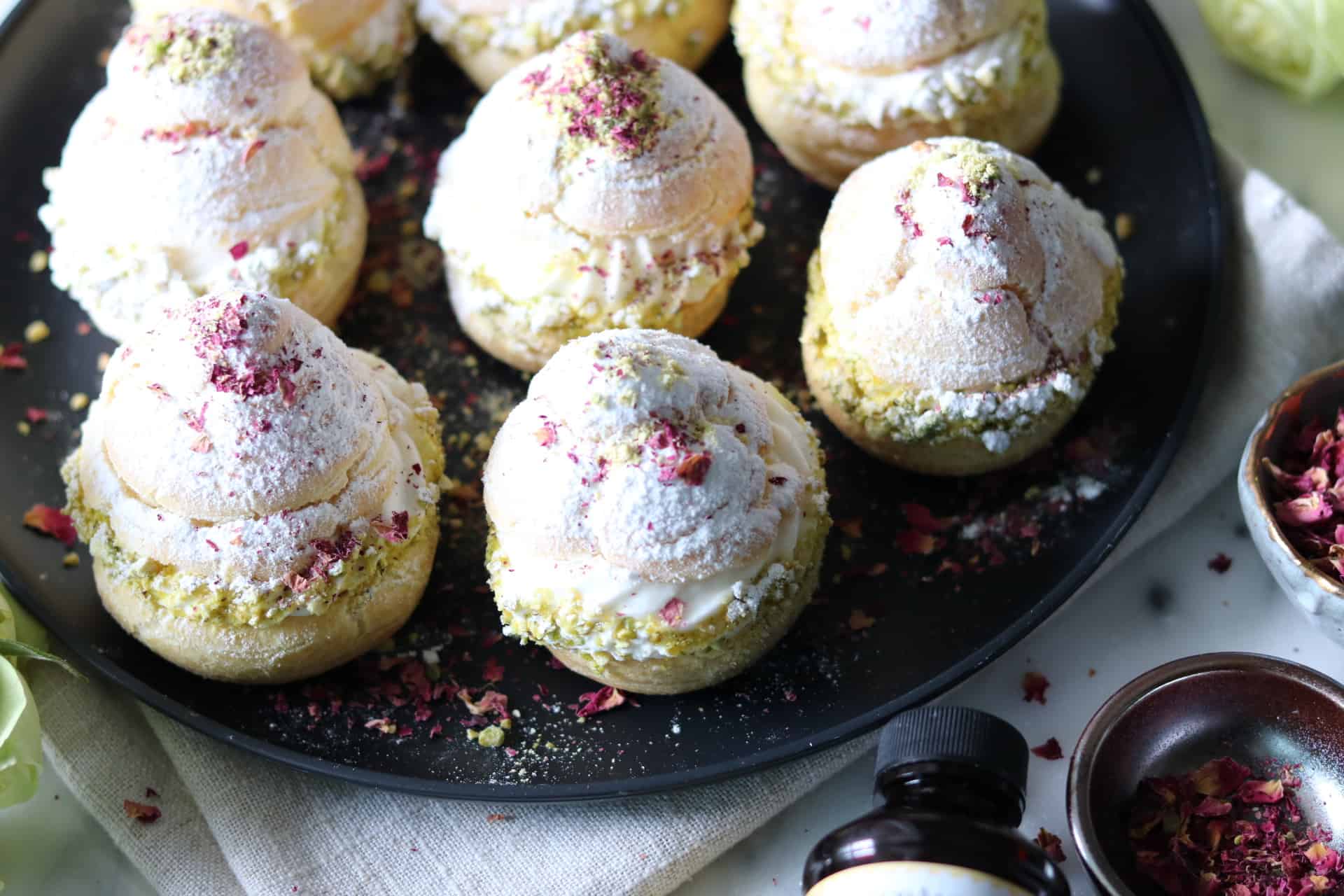 Make this recipe? I'd love to see! Tag me using #CreateAmandasPlate or @AmandasPlate
xoxo,