Citrus and Herb Turkey Recipe
If you've ever made a turkey, you know how challenging it can be. But it does not have to be. My first attempt at this Citrus and Herb Turkey Recipe was a great success. I combined recipes and techniques from Bon Apetit and New York Times Food. I learned some tricks that I share below to ensure your turkey is also a great success!
The Brine
Your brine is important and is the first infusion of flavor. The brine is a marinate and a way to add moisture to this very lean meat. You can add any flavors you like here really. I add bay leaves, peppercorns, orange and lemon.
-Brine in the refrigerator for 8 hours
-Once brining is complete, place in fresh water for 20 minutes.
-Bring turkey to room temperature before proceeding
The Herb Butter Rub
This is a second level of flavor infusion. I like to use butter for this rub, but you can use an oil, like grape-seed oil. The reason to use an oil, is that butter has moisture and moisture may take away from the crispy skin.
-Use herbs that you like. I chose rosemary, thyme, and orange zest. Oregano, sage and lemons would also work great.
-I did not baste in this recipe. I chose to brush with additional melted butter once the turkey was uncovered.
Tips
-Be sure to start with a defrosted turkey. You can do so by placing in the refrigerator for 24 hours or in cold water for about 8 hours, depending on the size of your turkey.
-Turkey should reach internal temperature of 165 degrees for safe eating. A food thermometer will ensure safe temp, and also that you don't overcook and dry out your turkey.
-Multiply the number of pounds that your turkey weighs by 15 (minutes). Example: if you have a 10 pound turkey that would be 10 x 15 = 150 minutes or 2 hours 30 minutes. This is a guideline, and you should still check in the internal temperate. 🙂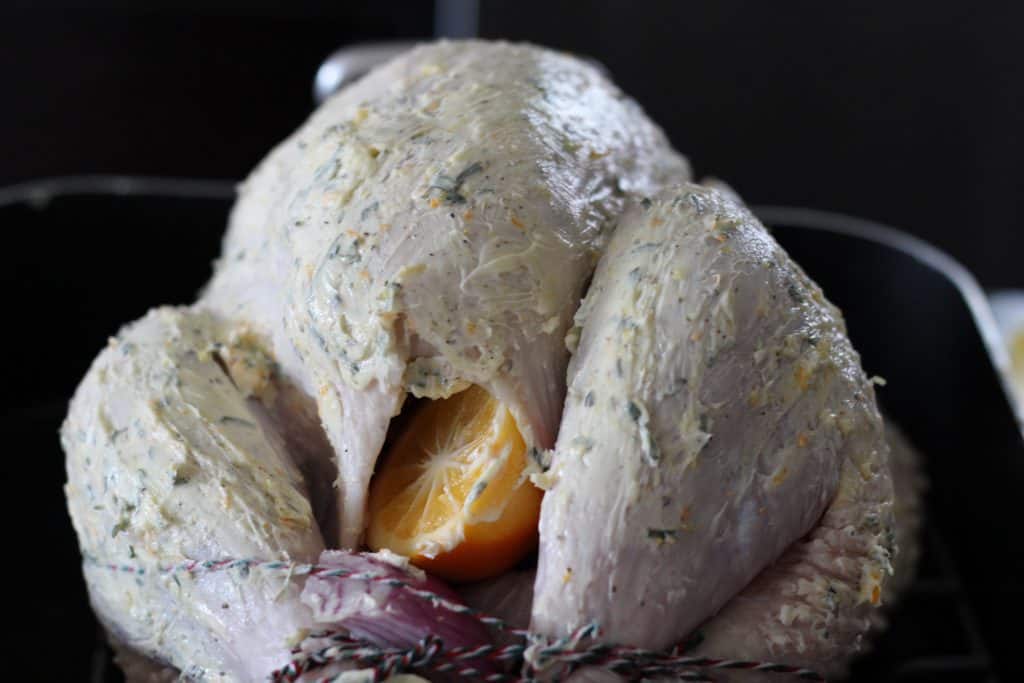 Citrus and Herb Turkey Recipe
Author:
Prep time:
Cook time:
Total time:
Ingredients
12-15 pound turkey, thawed
Brine
cold water
Peel of two large oranges
Peel of two lemons
2 tablespoons fresh peppercorns
3 bay leaves
3 tablespoons apple cider vinegar
1/4 cup kosher salt
Citrus and Herb Turkey
10 tablespoons unsalted butter, at room temperature
1 teaspoon kosher salt
1 teaspoon fresh ground black pepper
2 tablespoons fresh thyme
1 tablespoon fresh rosemary, chopped
1 tablespoon fresh orange zest
2 large onions, quartered
2 cinnamon sticks
2 nutmeg pods
handful of peppercorns
1 orange, halved
1 lemon, halved
1/4 cup apple cider vinegar
cold fresh water
3-4 tablespoons melted unsalted butter for brushing, optional
Instructions
Brine
Clean turkey and remove giblets from cavity, discard or save for a gravy
Place turkey in large pot, add the salt, herbs, orange, lemon peel and apple cider vinegar. Cover with cold water and allow to sit in the refrigerator for 8 hours.
Remove from refrigerator and discard all the liquid.
Place turkey in fresh water for 20 minutes.
Next, pat the turkey dry with paper towel.
Allow turkey to come to room temperature for one hour (this will help dry it and ensure a crisp skin).
Citrus and Herb Turkey
Preheat oven to 450 degrees. Place rack at the bottom of the oven.
Place turkey on a rack inside a heavy bottom pan.
In a medium bowl, combine butter with salt, pepper, thyme, rosemary and orange zest.
Spread the butter mixture all over the turkey and underneath the skin.
Stuff the turkey cavity with a few wedges of onion, orange and lemon
Place the turkey on the rack in the roasting pan
Truss the turkey (cut a long piece of twine, start at the top of the turkey and over the wings, under the breast and tie the legs together).
Place remaining onion, lemon and orange at the bottom of the roasting pan. Add the cinnamon sticks, nutmeg pods, and apple cider vinegar and enough water to fill the pan to a 1/4-inch depth.
Cover the turkey with heavy duty aluminum foil.
Roast the turkey for 2 1/2 hours.
Remove the foil and reduce heat to 350 degrees. Brush the turkey with additional butter and continue roasting until an instant-read thermometer placed in the thickest part of a thigh reaches a temperature of 165 degrees, about 30 to 45 minutes
Allow turkey to rest for 20 minutes before carving.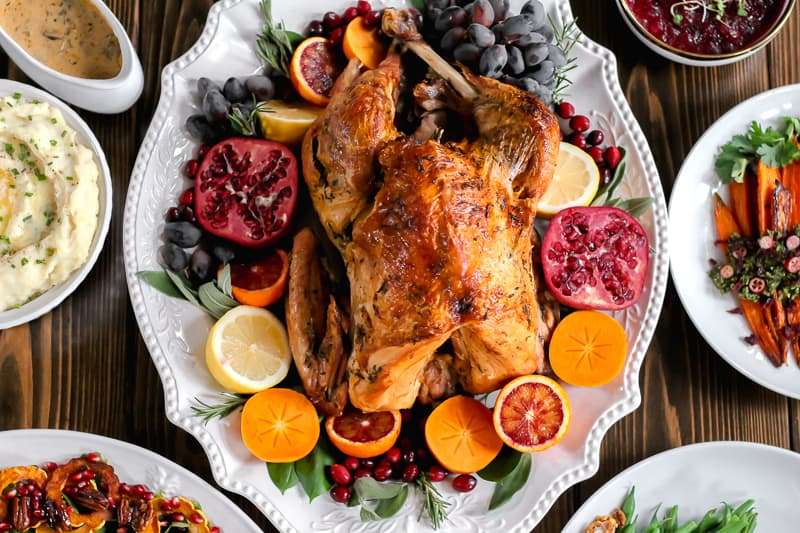 I displayed my turkey with a bounty of fall fruit and herbs including, pomegranate, persimmons, cranberries, lemons, blood oranges, grapes, sage and rosemary. You can find a large turkey platter like mine at Bed Bath and Beyond for only $12!
Make this recipe? Id love to see! Tag me using #CreateAmandasPlate or @AmandasPlate
Happy cooking!
Xoxo,
Amanda
SaveSave
SaveSave
SaveSave
SaveSave
SaveSave
SaveSave
SaveSave
SaveSave
SaveSave