Coconut Shrimp Taco Recipe
During this past Ramadan, my sister Deana invited us over for a taco Tuesday iftar. She made these incredible coconut shrimp tacos, that Hussein and I could not stop talking about. We enjoyed them so much that I had to have the recipe. I'm so excited to share Deana's coconut shrimp taco recipe.
The shrimp tacos are paired with a cabbage and mango slaw and topped with a chipotle honey cream sauce! And its the perfect blend of sweet, spice, acidity. The slaw and radish adds the perfect fresh crunch.
The components of this recipe take some effort but the flavor pay off is worth it. You can make the chipotle honey cream sauce the night before and chop the ingredients of the slaw ahead of time as well.
Coconut Shrimp Taco Recipe
Author:
Prep time:
Cook time:
Total time:
Ingredients
Chipotle Honey Cream Sauce
1/2 cup sour cream
2 tablespoons fresh lime juice
2 chipotle peppers in adobo sauce, drained
1 1/2 tablespoons honey
1/2 teaspoon kosher salt
Mango Slaw
2 cups shredded red cabbage
1/4 cup chopped bell pepper
1/2 diced mango
3 tablespoons chopped jalapeno
2 tablespoons chopped cilantro
2 tablespoons fresh lime juice
2 tablespoons olive oil
1/2 teaspoon kosher salt
1/2 teaspoon ground black pepper
Coconut Shrimp
1 pound raw, de-viened and peeled jumbo shrimp
1 cup all purpose flour
1/2 teaspoon garlic powder
1/2 teaspoon paprika
2 whole eggs
2 cups panko bread crumbs
1/2 cup sweetened coconut flakes
1 teaspoon ground cumin
1 teaspoon kosher salt
3 tablespoons grape seed oil
Tortillas
thinly sliced radishes, for serving
lime wedges, for serving
Instructions
Chipotle Honey Cream Sauce
In a blender, combine sour cream, lime juice, chipotle peppers, honey and salt. Blend until smooth.
Mango Slaw
In a large bowl, toss together shredded cabbage, bell pepper, mango, jalapeño and cilantro. In a mason jar, make the dressing, by shaking together lime juice, olive oil, salt and black pepper. Pour over the slaw and toss together until all ingredients are coated in dressing.
Coconut Shrimp
Set up breading station with three bowls.
In the first bowl, mix together all purpose flour with garlic powder and paprika.
In the second bowl, whisk eggs until smooth and frothy.
In the last bowl, combine panko bread crumbs, coconut flakes, cumin and salt.
Dip the shrimp in flour, then the eggs and lastly the panko coconut mix.
In a large skillet, hear grape seed oil. Cook shrimp until golden brown on each side.
Assemble
Lay slaw on tortillas, arrange shrimp on top. Drizzle with chipotle honey sauce and top with the radish
Serve with a lime wedge
Enjoy!
SaveSave
SaveSave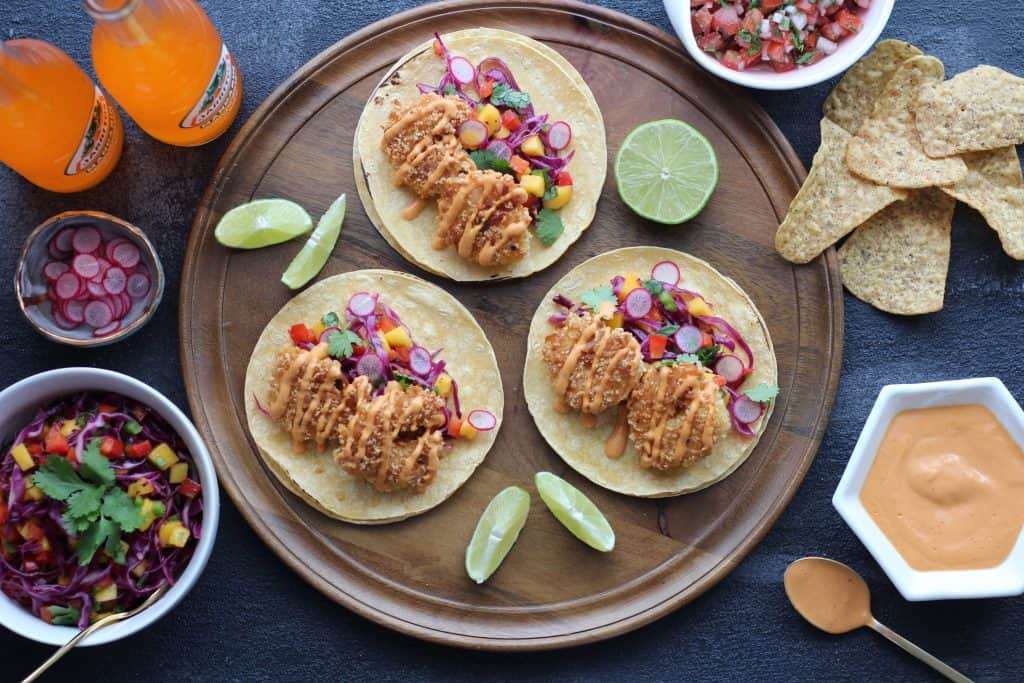 Make this recipe? I'd love to see! Tag me using #CreateAmandasPlate 😀
-Amanda
SaveSaveSaveSave