Brown Butter Pecan Cookies
I love browning butter for cookies. Ever since I started doing so with my Salted Brown Butter Chocolate Chip Cookies, I have been obsessed (and so have all of you). I am sure you will all love Brown Butter Pecan Cookies, just as much as chocolate chip ones!
I came to the idea for this cookie via pintrest, and had to re-create them. The base recipe is the same as my chocolate chip cookie. Instead of the chocolate chips, this recipe calls for the butter toasted pecans 😀
I've made these a few times and each time, I enjoy them more and more! They're slightly chewy, with crisp edges, and a nutty buttery flavor that is irresistible. These may be my favorite fall cookie recipe. 😀
Because these cookies need to be refrigerated, be sure to make space in your fridge before starting this recipe.
Brown Butter Pecan Cookies
Author:
Prep time:
Cook time:
Total time:
Ingredients
11 tablespoons unsalted butter
3/4 cup + 1 tablespoon brown sugar, packed
1/2 cup granulated sugar
1 large egg
1 teaspoon vanilla extract
1 3/4 cup All Purpose Flour (I use King Arthur)
1/2 teaspoon baking soda
1/2 teaspoon baking powder
1/2 teaspoon salt
1 teaspoon ground cinnamon
1 cup chopped pecans
1 tablespoon unsalted butter
24 pecan halves, for topping
Instructions
In a saucepan, heat butter on low heat until it is browned.
Cool butter completely.
While butter is cooling, in a small pan, heat 1 tablespoon butter with 1 cup chopped pecans, over medium heat. Stir constantly, until pecans are toasted, about 2 minutes. Set aside to cool.
Using a mixer, cream together butter and sugar until well combined.
Add in egg and vanilla extract. Mix until combined, but do not over mix.
Sift in flour, baking soda, baking powder, cinnamon and salt. Mix into the wet ingredients. Do not over mix.
Fold in the cooled pecan pieces.
Preheat oven to 350 degrees.
Using a size 40 (1 1/2 tablespoon) ice-cream scoop, scoop dough onto a parchment lined baking sheet.
Press on pecan halve into each cookie.
Place the refrigerator for 10 minutes to chill.
Bake for 12-14 minutes until golden. The cookies will continue cooking outside the oven
Allow to cool completely.
Enjoy 🙂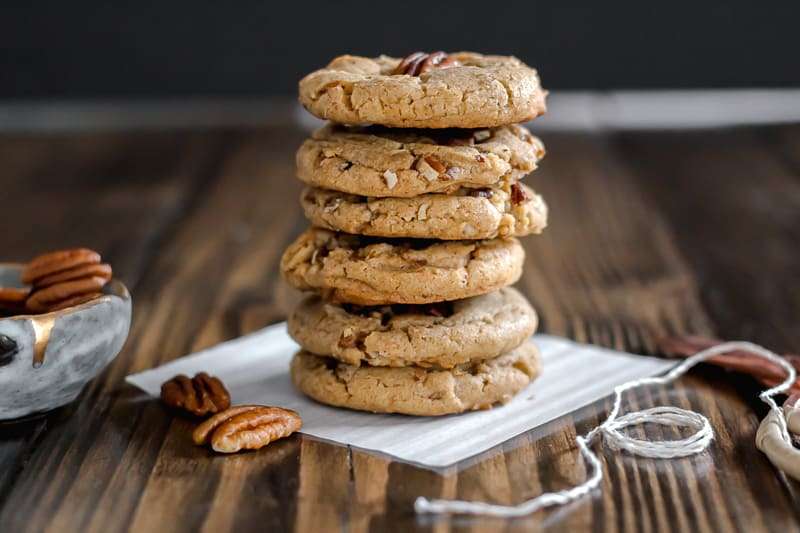 I'm definitely going to add these to my Christmas Cookie line up! 😀
Make this recipe? I'd love to see! Please tag me using #CreateAmandasPlate or @AmandasPlate
Xoxo,
Amanda
SaveSave
SaveSave
SaveSave
SaveSave