I first saw these beautiful cookies on The Bake Feed editor, Brian's page while we were in NYC!! Upon our arrival, I needed to bake something quick!! I really missed being in my kitchen SO much 😀
These were easy enough and I had all the ingredients (except the chocolate eggs). The original recipe calls for the cadbury milk chocolate eggs.. yum! But the store I went to only had one bag left, so I also grabbed a bag of the Hershey Milk chocolate eggs too! I really loved the color of the hershey eggs 😀
I will do an update on our NYC trip soon! I will say it was AMAZING and we had so many great treats 😛
The Recipe
The original recipe can be found here.
Chocolate Egg Cookies
Author:
Prep time:
Cook time:
Total time:
Ingredients
½ cup unsalted butter, melted
1 cup granulated sugar
½ cup firmly packed light brown sugar
4 ounces milk chocolate, melted
2 large eggs at room temperature
1 teaspoon vanilla extract
1 cup all-purpose flour
½ cup unsweetened cocoa powder
1 teaspoon kosher salt
½ teaspoon baking soda
½ teaspoon baking powder
2½ cups crushed candy-coated milk chocolate eggs, divided
½ cup milk chocolate chunks
Instructions
Preheat oven to 325 degrees Fahrenheit.
In the bowl of a stand mixer with a paddle attachment, cream the melted butter, sugars, melted chocolate, eggs, and extract at medium speed until combined.
In a medium bowl, sift together flour, cocoa, salt, baking soda, and baking powder. Add dry ingredients to butter mixture. Mix until combined.
Add ½ cup crushed chocolate eggs and the chocolate chunks, beating just until combined.
Cover and refrigerate for 30 minutes.
Scoop dough into 2 tablespoon rounds. Roll the dough rounds into the crushed eggs. Place on parchment lined baking sheet and refrigerate for 20 minutes.
Bake until set, 12 to 14 minutes. Let cool completely.
Enjoy!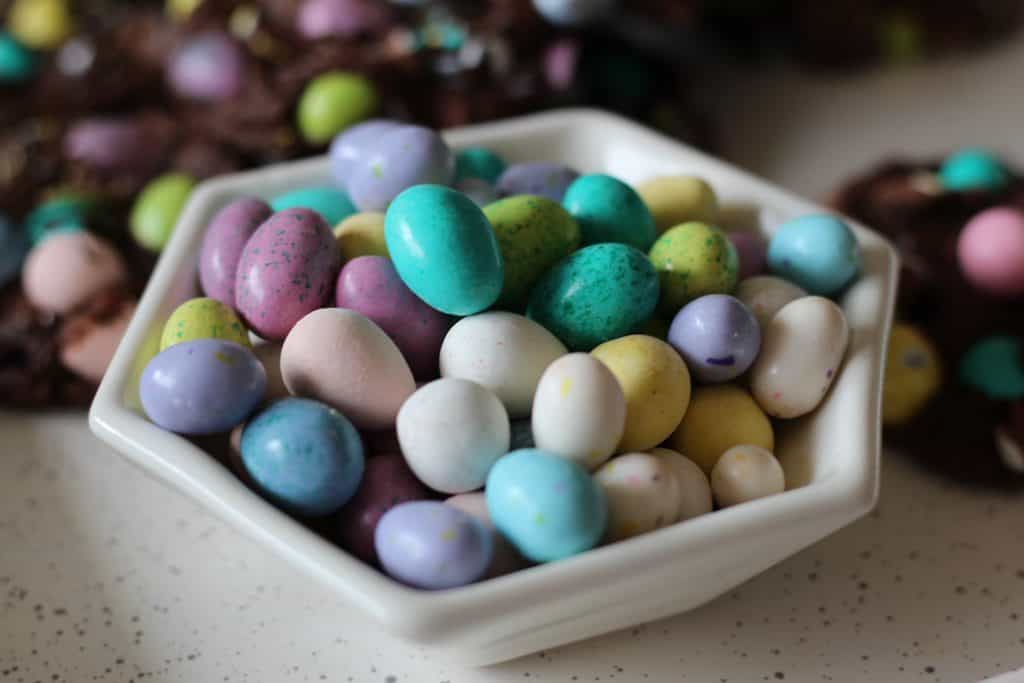 Are you baking this weekend? Share what you bake! Tag me @AmandasPlate or #CreateAmandasPlate
Xoxo,

SaveSave