This is the perfect cake to make this summer. Summer is a few months away but I picked up these key limes and knew I wanted to pair them with coconut.
I love that nutty flavor that comes from coconut when it is toasted, so before adding the coconut flakes to this cake, I toasted in the oven. I did so
This cake is best baked in a 9 inch by 3 inch round pan. It also bakes nicely in a 8 by 8 inch square pan.
This recipe is adapted from my Citrus Olive Oil Cake I love these cakes so much because they are really easy to make and are perfect for a small party or gathering. This coconut key lime cake will be the perfect dessert to serve during the month of Ramadan.
The Recipe
Coconut Key Lime Cake
Author:
Prep time:
Cook time:
Total time:
Ingredients
¾ cup granulated sugar
½ cup coconut oil, melted
3 whole eggs, at room temperature
¾ cup plain unsweetened yogurt (can use non-fat greek yogurt)
1 teaspoon vanilla extract
1½ cups all purpose flour
2 teaspoons baking powder
¼ teaspoon baking soda
¼ teaspoon Diamond crystal Kosher Salt (half this amount if using iodized)
1/2 cup toasted unsweetened coconut flakes
1 tablespoon key lime zest
Whipped Cream
1 cup heavy whipping cream
1/3 cup powdered sugar
Lime Sugar
1 tablespoon key lime zest
1 tablespoon granulated sugar
1/4 cup toasted unsweetened coconut flakes
Instructions
Preheat oven to 350 degrees Fahrenheit.
Brush 9 inch cake pan butter or spray with nonstick spray. Set aside.
In the bowl of your stand mixer, cream together ¾ cup sugar and eggs. Add in the coconut oil, yogurt, and extract. Mix until incorporated.
Shift your flour, baking powder, baking soda and salt together and add to the wet ingredients. Mix until combined.
Fold in the toasted coconut and key lime zest.
Bake for 30-35 minutes, or until toothpick inserted in the center of the cake comes out clean.
Allow cake to cool completely.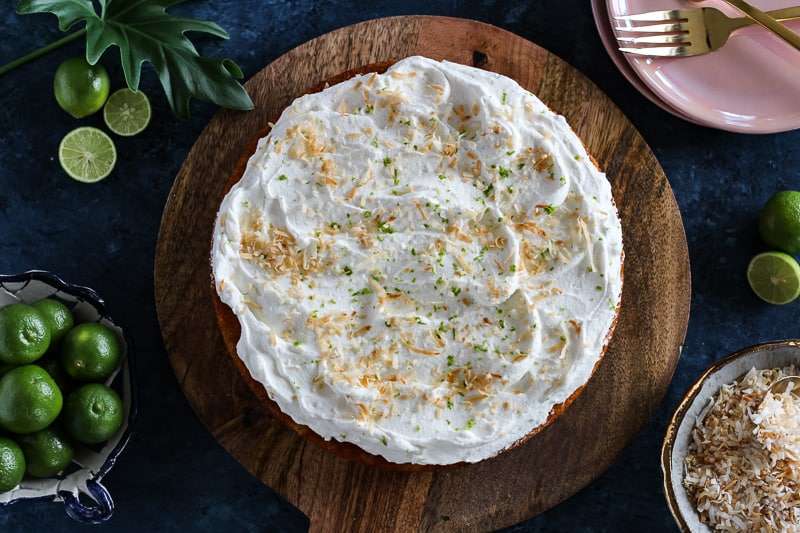 Make this recipe? I would love to see! Please tag me using #CreateAmandasPlate or @AmandasPlate
XOXO,

SaveSaveSaveSave
SaveSave