If you have not watched the season premiere of MasterChef season six be warned; there are spoilers in this post. You can watch it here and then return: http://www.fox.com/masterchef
For the first time ever, there were MasterChef Battles! The top 40 contestants went head to head for the highly coveted white aprons! I was in the "Battle of The Lamb". Whose lambs were silenced?
I prepared a lamb kefta with jalapeno dusted potato and sumac aioli. In the 4 way battle, I was up against some great competitors! We only had 30 minutes to complete the whole dish and boy did it feel like only 5 minutes.
And guess what?
I WON AN APRON! 😀
Did you see the twist? After all the aprons were won, 6 of those who did not receive one would get a chance at just 2 more aprons! Shelly and Steven won the second chance aprons and joined the group on the balcony!
I was so fortunate to watch the premiere with my family and friends in Michigan. What a wonderful premiere party it was! Over 200 people joined us and we collected over 400 non-perishable food items for a local food bank.
It could not have been possible without my husband Hussein, my mom Hala, my sisters Deana and Mona, and my brother in law Mohammed. THANK YOU SO MUCH!! <3
I want to send a heartfelt thank you to you all. Thank you for reading my blog, believing in me and supporting me on my MasterChef journey! God has blessed me with the best support system of all and I could not do any of this without all the love and support that is surrounding me!
More pics from the party: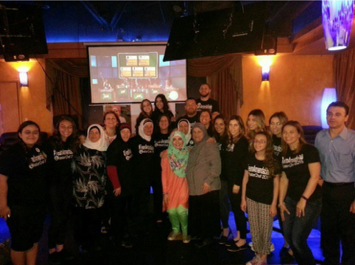 Xoxo,
Amanda