I absolutely love pita bread! It is so versatile. You can use it scoop your favorite dips, like my avocado hummus, or stuff it with shawarma or gyro meat. While living in Dearborn, I was surrounded by delicious pita, I never had to make my own. There was several local bakeries who made fresh pita daily. There were also many local restaurants who served up fresh, made to order pitas, that when pulled apart would release a cloud of steam!
While living in the Pacific North West, I have not found a pita that compares to those that are made to order in Lebanese restaurants, so I decided to try and make it myself. I sought the help of my mom to get the recipe right and to my delight, it was so easy to make and left me wondering why I hadn't made it myself before.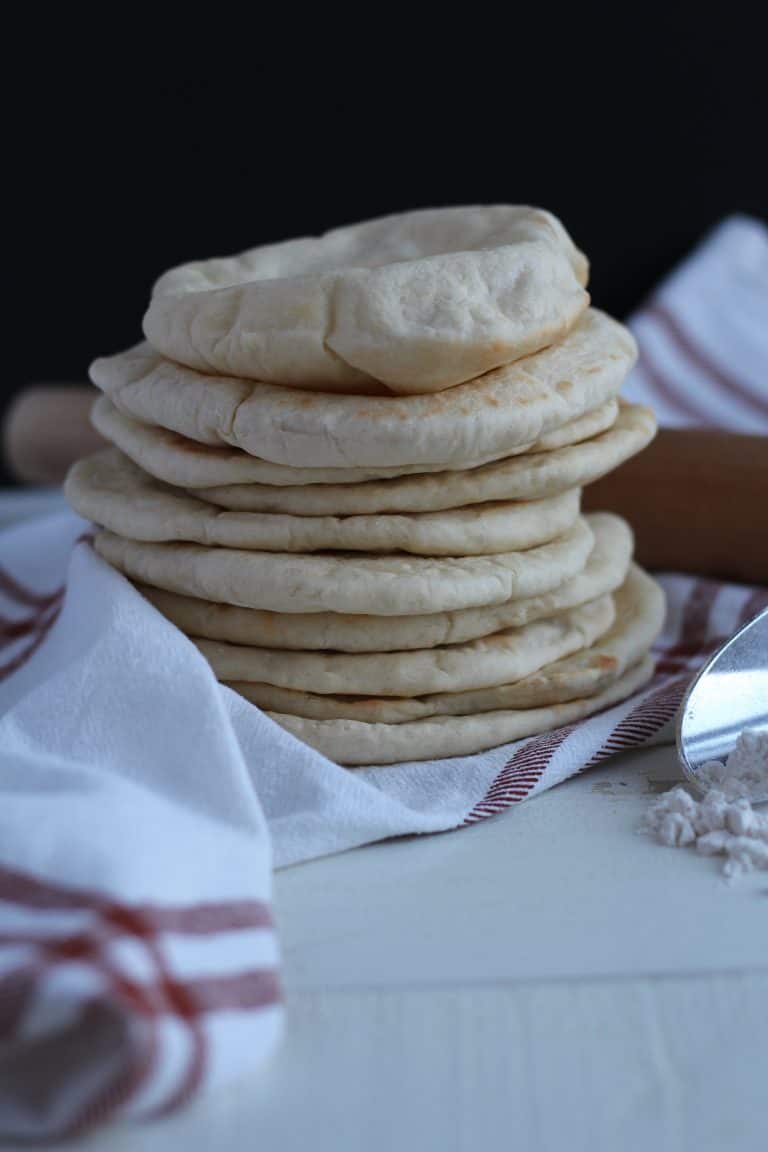 You can watch me make my pita here:
Easy Homemade Pita Bread
Author:
Prep time:
Cook time:
Total time:
Serves:
2 dozen small pita
Ingredients
1 tablespoon instant dry yeast
1 1/4 cup warm water (about 100 degrees Fahrenheit)
2 teaspoons granulated sugar
1 teaspoon salt
3 to 3 1/2 cups all purpose flour
Instructions
Dissolve sugar in the warm water. Sprinkle in yeast and let stand for 5 minutes. Add in salt and 1 cup of flour.
Using hook attachment on stand mixer, mix to make a dough.
Slowly add remaining flour until a shaggy dough is formed. Knead for 10 minutes until dough comes together and is smooth.
Cover dough with moist kitchen towel. Allow dough to rise in a warm, dark place, until the dough has doubled in size (approximately 1 hour).
Separate dough into equal round pieces. Do this by pinching off a round from the dough mass.
Roll out the dough. It is extremely important to roll the pitas evenly, so they can puff up!
Preheat oven to highest temperature. I set my oven to 550 degrees Fahrenheit.
While the oven is heating, allow the pita rounds to rest.
Bake for 6-8 minutes minutes on the bottom rack of your oven until golden brown.
Enjoy!
*Photos and video added in January, 2018!
Note: You can make the dough my hand with the help of a flat wooden spoon. Turn the dough onto a well floured surface and knead until smooth, about 10 minutes.
You may need a bit less or more flour depending on humidity and other factors! Know your dough 🙂
Make this recipe? I'd love to see! Please tag me using #CreateAmandasPlate or @AmandasPlate
Xoxo,
SaveSave